[My goodness, ten days without a post? What can I say; it's January and January robs me of any motivation to do much. But let us move on…]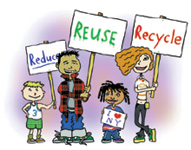 Using less plastic, let me tell you, has not been easy.
Two weeks ago, my kid got a package for her birthday, packed in Styrofoam packing peanuts. No problem, I thought, I'll just find a place to recycle them. I went to NYCWasteLe$$, the city's clearinghouse for recycling information. I did find a place to recycle packing peanuts, but I also found this:
At present, the ONLY plastics accepted by NYC's recycling program are plastic bottles and jugs. ALL plastic bottles and jugs should be placed in your recycling bin. If it is NOT a bottle or jug, put it in the regular garbage. The only plastics accepted for recycling in New York City are bottles & jugs (with necks smaller than their bodies). All other plastic containers and all other plastic items should be placed in the regular trash — even if they are labeled #1 PETE or #2 HDPE.
I'm a little embarrassed to admit it, but I really had absolutely no idea. When I lived in a small city in the suburbs in Massachusetts, anything that was plastic could be recycled, so naturally, I assumed: everything else is better in NYC; the recycling plan must be as well, right?
So… according to the NYC Dept. of Sanitation, all the yogurt cups, sour cream containers, hummus tubs, medicine bottles, et cetera, that I've been putting in the recycling bin, should have been put in the trash. That makes me absolutely cringe.
However!
As I was looking for a way to recycle more plastic, I read about this Gimme 5 program from Preserve (makers of the best toothbrush ever). They've paired up with Whole Foods Markets to set up drop points for #5 plastics, where they can then be upcycled into something even better, like measuring cups and food storage.
Not bad for something that would have been trash.